If you are a donor, thank you.  You are behind these stories of success.
If you want to be part of something bigger, please check our GIVE page
Become Our Partner
United Way of Coshocton is always looking to extend its reach and evolve as needs arise. If you are a 501c3 program and would like more information about partnering with the United Way, call the office at (740)622-4567.
Creating a Healthy Lifestyle by Breaking the Cycle of Abuse
— One person's story
When I think of how First Step has helped me, I think back to when I first heard about the agency. It was directly after a domestic incident in a previous marriage. I don't remember the name of the nurse in the ER and I am not even sure I was looking at her because I had felt so ashamed as to why I was in there in the first place. I think at that time in my life, looking at the floor or the ground had become common practice for me because I felt I didn't see anyone else and maybe they wouldn't notice me either. I did not like to draw attention to myself anymore than I already had.
I do vividly remember a brochure being handed to me, almost as if it were in slow motion. Nothing too fancy about it, but the words First Step kind of caught my attention. I am sure that I was agreeing to everything that was being said to me by the nurses and doctors and nodding my head in agreement because I was in an extreme hurry to get out of there as quickly as I could. I made sure that I kept the brochure with me because if there was anything I needed at the time it was a first step away from the life I had lived for so many years. If someone would have told me then how my life would be now I think it would have been a blur like everything else that was being said to me that day. There is one thing for sure, that brochure saved my life.
The connection I made with First Step was the best thing that I could have done for myself in a long time. Though it was a process of steps, a process of decisions, and a process of relearning a healthy way of living and not continuing a cycle of abuse in which I had been raised with and also followed me into adulthood. First Step empowered me with the information I needed to make my life better.
I can remember being abused as far back as the age of three. Abuse is a learned behavior and for the first 28 years of my life that's how I learned to be loved by people abusing me. When that is all you know it is a normal way to live, that is until you learn the healthy choices you can make and what seems so simple to me now was very foreign not so long ago.
I choose to be healthy, raise my children with the same healthy decisions; I choose to be proud, responsible, trustworthy, honest, dependable and considerate. I describe myself with these words because I believe them to be true and I choose not to let my abusive past define me and imprison me. There are some people in my abusive past that I have no choice but to come in contact with on occasion and there are always going to be people who do not have the same healthy way of living and will try to make things difficult for me and others.
First Step has given me the education and information I need to be able to handle myself in a safe and dignified manner when those situations occur. First Step not only helped me, but can help you to. By helping me, they have helped a lot of people I come in contact with, my children, because I am now a better parent, my employer, because I am now a better employee, and our community, because I have become a better citizen and in turn that helps you too.
I have had contact with First Step for 15 years, and though I'm not in "crisis" anymore, I don't think I will ever stop learning from what First Step has to offer. Though I have come a long way in the right direction, knowing that First Step's doors are always open should that road ever get bumpy again is a feeling of safety that words cannot describe.

Coshocton-area Girl Scout Cadettes in Troop #60468, under the leadership of Lois Michael, recently logged more than 100 community service hours on their quest to complete two Girl Scout Silver Award projects.
Kaitlyn Krebs, Taylor Holderbaum and Brook Huskey, 8th-grade students at Coshocton Junior High School, focused their efforts on establishing Chemo Cap Day. They researched different crochet and knitting patterns in order to make caps for local cancer patients. The girls spent hours learning different stitching techniques and settled on a cap design. The girls even visited cancer patients at Coshocton Memorial Hospital where they distributed the chemotherapy caps.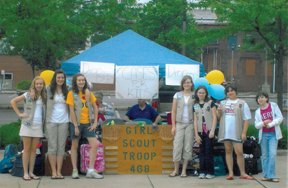 The troop's second project, Cases for Kids, focused on a suitcase and duffel bag drive for foster children. The project was conducted by Katie Stiteler, Emily Fender, Betsy Fender and Anna Havranek, middle school students at Coshocton Junior High School. The girls chose this project because they wanted children entering foster care to be able to prepare properly and pack their necessities when an emergency situation occurred and they needed to move from one home to another. Unfortunately, many abused and neglected children find themselves in this predicament because a suitcase or garment bag is not available.
The girls, with support from the community and the employees at the local Wal-Mart, were able to collect a large number of new and gently-used suitcases and duffel bags, which they donated to the local Job and Family Services. Special thanks go out to Grace United Methodist Church for serving as the drop-off site.
George had a really good paying job with a construction company until he was injured on the job. Unfortunately the company did not cover benefits of health insurance or worker's compensation and George needed surgery. Every penny he had was going to living expenses and so he reluctantly went to the Salvation Army for help. They were able to secure food, clothing, rent and utility assistance for George while he recovered from his surgery and physical therapy. George was able to get another job at a competitor construction company that did provide benefits and now George is living self-sufficiently on his own due to the temporary assistance he was able to receive from the Salvation Army.