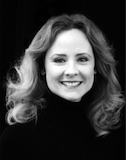 The United Way of Coshocton was pleased to welcome Samantha Servais at the May Board of Control meeting.
Sam holds Bachelor of Fine Arts in Liberal Arts from Wright State University. Working as a performing artist since 1995, Sam's diverse professional experience includes artistic director for outdoor theater, a freelance choreographer/ director in high school and collegiate settings, and a vocalist, currently performing regionally in Ohio wineries and other venues as "Songbird". She teaches classical ballet at Miss Jennifer's Dance Studio and offers yoga classes for the Coshocton Community Center and Kids America.
Since moving to Coshocton in 2012, she has researched the historical Native American past of the Coshocton area (especially the Bouquet Expedition of 1764), making several connections with expert scholars, the Fort Pitt Museum in Pittsburgh, and members of the Delaware and Shawnee Tribes of Oklahoma. Through personal efforts, training with the Ohio Humanities Oral History Institute and past employment with the Johnson-Humrickhouse Museum, she continues to be passionate about bringing a true voice of dialogue, education and living history concerning the historical Woodland Indian peoples and their connection to the area. Sam has just contributed a 3rd prize-winning essay concerning the history of the Coshocton Frontier to the Coshocton Review, published by Dr. Scott Butler.
Sam is an avid genealogist and facilitates as a volunteer administrator for Slovenian Genealogy Society International, Inc. (SGSI)'s social media account. She serves on the Clary Gardens Board of Directors, is a member of Elks Lodge #376, is a past member of the Coshocton Community Choir and has volunteered with the Coshocton Footlight Players since 2009.
Board members are permitted to serve 2 consecutive 3 year terms and are the governing board over all decisions made for the United Way of Coshocton. Currently they are celebrating their 80th year of serving Coshocton having been founded in 1940.